PANORAMIC WALLPAPERS
History
Wallpaper has been produced since before 1700 and mainly through hand-painting, wood-block printing, stencilling and various machine printing techniques. The higher wealthy classes preferred tapestries that provided both warmth and colour, which were also extraordinary expensive.  Wallpapers originally became a substitution for the less wealthy part of the higher classes to at least brighten up the rooms.
Naturally, the designs of the wallpapers resembled the tapestries with large scenes that had to be put together by several different sheets:
'Sauvages de la Mer Pacifique', panels 1-10 of woodblock printed wallpaper designed by Jean-Gabriel Charvet and manufactured by Joseph DuFour.
Eventually the scenic prints became accepted among the elite as well and one early example is that the Holy Roman Emperor Maximilian I, commissioned an extraordinary large print of the "The Triumphal Arch" already 1515. Tapestries were usually produced in Flanders and Arras, but as a result of Henry VIII excommunication with the Catholic church, import became difficult to northern Europe and as a result wallpapers became popular. France, Germany and England were the leading producers of wallpaper, but the Chinese came up with an exclusive in-between alternative – the hand painted panoramic wallpapers that were exported to Europe, but later on copied for cheaper machine-made versions. In the beginning of the 19th century, the mass production of machine-made all over printed wallpaper was democratized, now available for both the working and middle classes.
                    
The Triumphal Arc                                                     Chinese handpainted                                              William Morris & Co
Today there are plenty of producers of wallpapers, but only a few prestigious ones still producing the panoramic wallpapers. The French Zuber et Cie is the one and only still remaining producer from the beginning of the 19th century, meanwhile there have been new additions as de Gournay and Sanderson. A few more "priceworthy" alternatives have entered the market offering fixed measurements for a better price and bespoke for a higher price – Beauchamps and Papier des Paris are two good examples of good quality and less pricy versions. It can of course become overwhealming if it's used throughout a room, but could also become an interesting talking piece placed in a suitable environment complemented and contrasted by the choice of furniture and textiles.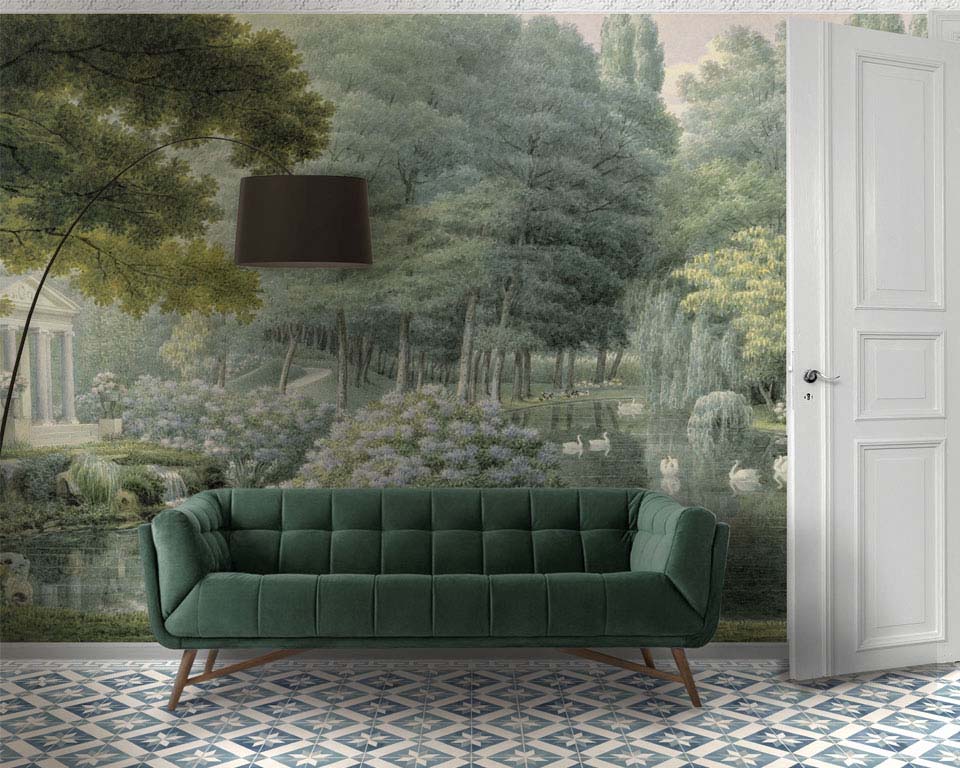 De Gournay                                                                                   Papiers de Paris                                                           Zuber – The White House / Washington